Fund Managers Holding Highest Cash Percentage Since Lehman
Posted July 14, 2015 by Joshua M Brown (a New York City-based financial advisor at Ritholtz Wealth Management)
as written by Joshua: Michael Hartnett is out with his latest Fund Manager Survey for Bank of America Merrill Lynch and it's, well, something else. According to the survey, conducted among 149 participants with $399 billion in AUM from July 2nd through July 9th, cash levels in fund manager survey (FMS) portfolios have hit 5.5%.
Here's Hartnett & Co: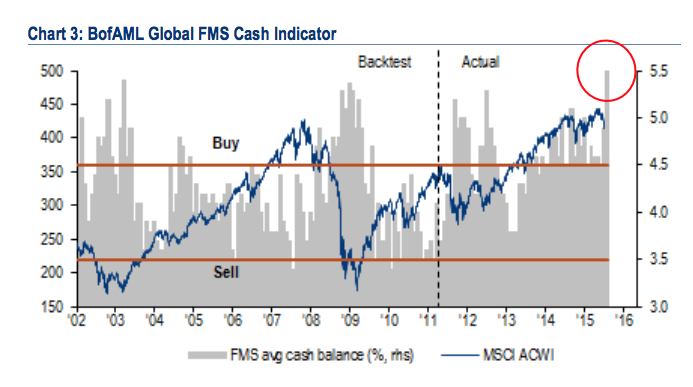 FMS cash levels jump to highest level since Lehman = trading buy signal; Greece & China = capitulation in risk appetite & China-plays; but record long in global banks = no macro capitulation, a complete contrast to 2008.
Cash levels soar to 5.5%, highest level since Dec'08 (and prior to that Nov'01)
As a reminder, the FMS Cash Rule works as follows: when average cash balance rises above 4.5% a contrarian buy signal is generated for equities. When the cash balance falls below 3.5% a contrarian sell signal is generated.
Source: The Trojan Lehman /Bank of America Merrill Lynch – July 14th 2015 ("thereformedbroker")