Victoria's Secret & Co. (L Brands)
Victoria's Secret & Co. (L Brands)
At the right price, L Brands offers investors the opportunity to own a leading company in remarkably uncrowded categories, and one with a strong record of delivering shareholder returns...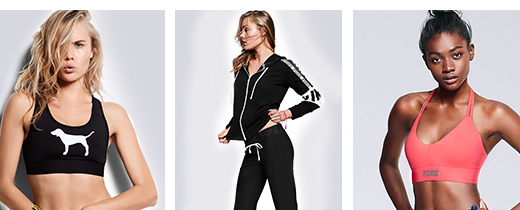 L Brands Inc formerly known as Limited Brands, Inc., operates as a specialty retailer of women's intimate and other apparel, beauty & personal care products and accessories under various trade names.
L Brands, through Victoria's Secret, PINK, Bath & Body Works, La Senza and Henri Bendel, is an international company that recorded sales of USD 12.2 billion in 2015 and employs more than 88,000 associates. The company operates more than 3,000 specialty stores in the U.S., Canada and the U.K., and its brands are sold in more than 700 company-operated and franchised additional locations world-wide. The company's products are also available online.
L Brands Inc was founded in 1963. The Company sells its merchandise through its retail stores in the United States and Canada, which are mainly mall-based, and through its websites and through international franchise, license and wholesale partners. The best known retail brands operated by the Company are: Bath & Body Works, and most of all Victoria's Secret, including Victoria's Secret Pink.
Its PINK line of clothing is solely targeted to teenage girls which is another example of the lifestyle appeal of the brand. The brand doesn't usually pick famous movie stars or models as its ambassadors, instead it launches successful modeling careers for some of its Angels, who go on to become famous post their modeling experiences with Victoria's Secret.
Additionally, Victoria's Secret brand products are also available in Victoria's Secret Beauty and Accessories stores operated by partners under a franchise or wholesale model throughout the world.
Bath & Body Works on the other hand is one of the specialty retailers of home fragrance and personal care products including shower gels, lotions and antibacterial soaps. The Company sells its Bath & Body Works products at more than 1,600 Bath & Body Works stores in the U.S. and Canada and online.
Long-Term-Evolution of the business: Victoria's Secret extended its product range from lingerie to everyday undergarments, sleepwear, beauty, sport, clothing, shoes, swimwear, and its PINK line of products. As per 2015 the company enjoyed over 40% share of America's USD 13.2 billion lingerie market.
To get some deeper understanding about the companys' figures, let's take a dive into some metrics covering the last three years; First let us start with the Revenue-data and a breakdown of Sales in 2016 furtheron: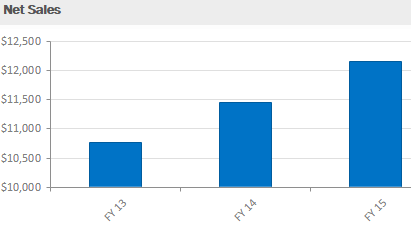 Having achieved a turnover-number of > USD 12 bn, the stock experienced partly hefty losses toward the front end of the year 2016. The company suffered dual disappointments in February 2016, with comps falling 2% unexpectedly, and the unexpected resignation of Sharon Turney, CEO of Victoria's Secret - the most relevant subsidiary of L Brands.
The company then announced later in the year 2016 that Victoria's Secret would be discontinuing its catalog and the company would effectively be getting out of the swimwear business. While results haven't been terrible, weak guidance has caused the stock to continue its sell-off throughout the year. Still, the year 2016 could only be a minor bump in the positive Long-Term-Development of this global company.


The company is still a strong Cash Machine and delivering Cash Flows:
The cash-level is also relatively high: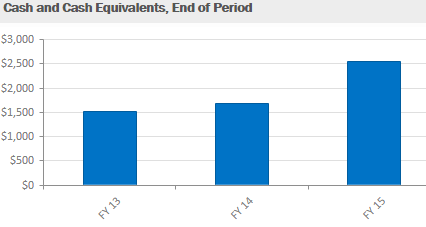 Having already looked at the Operating Cash Flow (above),
we can also look at the yearly EBITDA figures: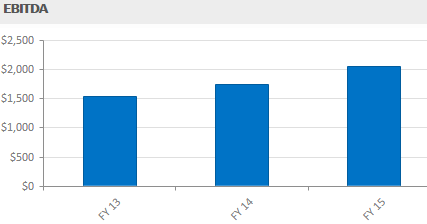 Extremely interesting is also the number, which stands at the end of the table...
Stocks-Valuation: Currently, shares trade BELOW a P/E of 20 (times forward earnings) which isn't expensive but also isn't necessarily cheap. The company also offers a dividend yield > 3%, which appears pretty safe for the moment, as only 60% of free cash flow has been used for regular dividend payments over the past year.
The stocks enjoyed a nice run until Q4-2015. From that point onwards the going got tough for L Brands-Investors. Well, after such a great (out-)performance over the last 5years and 10years a year of consolidation was definitelly not bad...


Comments by Ralph Gollner (1st January 2017)
Disclaimer: Ralph Gollner hereby discloses that he does NOT directly own securities of the stock (L Brands, LB) mentioned above (as per 1st January 2017).
Disclaimer/Hinweis nach §34 WPHG zur Begründung möglicher Interessenkonflikte: Die Aktie L Brands (LB) die in diesem Blogeintrag/Artikel behandelt/genannt wird, befindet sich aktuell NICHT im "Echt-Depot" von Mag. Ralph Gollner.
LINKS:
great data from LB directly: https://apps.indigotools.com/IR
VIDEO: Rebound in 2017 (LB)
http://finance.yahoo.com/video/l-brands
[...] "Victoria's Secret is at a turning point"
www.cnbc.com/2016/12/13/known-more-for-sex-appeal
HOLY COW *g* - Analysis: www.trefis.com/stock/lb/model
great tool, "quick n dirty": www.vuru.co/analysis/LTD/valuation
Status of VS in June 2016: www.forbes.com/sites
About Trefis.com www.forbes.com/sites