China PMI falling! (31st Aug. 2015)
China Purchasing Manager Index (PMI, 31st Aug. 2015)
China manufacturing sector is losing steam; Activity in China's manufacturing sector slowed markedly in August 2015, the latest sign that the world's second largest economy is fast losing momentum.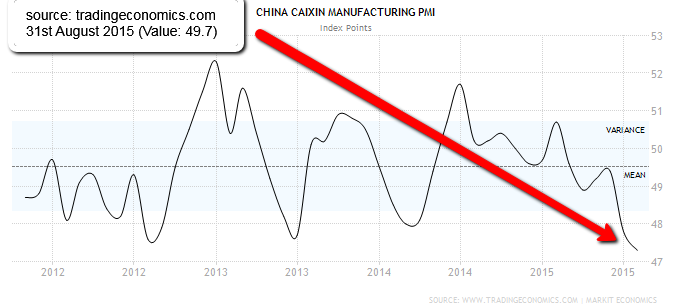 source: http://www.tradingeconomics.com
The final Caixin/Markit manufacturing purchasing managers' index (PMI) slipped to 47.3 in August 2015, the lowest reading since March 2009 and down from 47.8 in July 2015. The reading, however, was a touch better than the flash reading of 47.1.
A print above 50 indicates an expansion in activity while one below points to a contraction.
"The final Caixin China Manufacturing PMI for August continued to retreat, with sub-indices signaling continued weak demand in the markets for goods and factors of production. Recent volatilities in global financial markets could weigh down on the real economy, and a pessimistic outlook may become self-fulfilling," said He Fan, Chief Economist at Caixin Insight Group.
China's official PMI, released earlier in the day, slipped to 49.7 in August - the weakest level since August 2012 - down from 50 in July and in line with expectations. This is the first time the official PMI has fallen below 50 in six months, according to Nomura.
The official PMI is skewed towards state-owned enterprises and large companies, while the Caixin PMI focuses more on small and medium-sized firms. China's recent run of disappointing data has damped the growth outlook for the second half, with economists now warning growth could dip below 7 percent during the third and fourth quarter. The economy expanded an annual 7.0 percent in both the first and second quarter.
"The economy faces heightened economic and policy uncertainty at the present time. This reflects extreme equity market volatility and more recently the sudden move in the CNY fixing, which has amplified uncertainty about the path of the exchange rate going forward," Goldman Sachs wrote in a report on Monday, 31st Aug. 2015.

full text/source: http://www.cnbc.com