Konsumentenvertrauen (U.S.A.)
Conference Board-Consumer Confidence (Michigan Consumer Sentiment); Das Conference-Board Verbrauchervertrauen misst das Level des Verbrauchervertrauens in wirtschaftlichen Aktivitäten. Es ist ein leitender Indikator, da es die Verbraucherausgaben...
...vorhersehen kann, welches ein großer Teil der Gesamtaktivität der Wirtschaft ist. Höhere Lesungen weisen auf einen größeren Konsumentenoptimismus hin.
Anmerkung um EUR/USD-Währungspaar: Theoretisch (!) sollte eine höhere als erwartete Lesung als positiv/bullisch für den USD angesehen werden, während eine niedrigere als erwartete Lesung als negativ/bärisch für den USD gesehen wird.
Conference Board Consumer Confidence
Die Konsumentenvertrauens-Umfragezahlen sind im Dezember 2017 etwas gefallen. Im Vormonat noch hatten diese Zahlen ein 17-Jahres-Hoch erreicht! Das Konsumentenvertrauen der US-Amerikaner war im Jahr 2017 am höchsten Level seit der Milleniums-wende. Der Index ist auf 122,1 Punkte abgerutscht von einer revidierten Zahl von 128,6 im November. Volkswirte hatten mit einer Zahl von 127,5 gerechnet.
Zusätzlich könnte man noch anmerken, dass bis zum Hoch im Jahr 2000 bei ca. 144 Punkten doch noch Einiges fehlt. Der Zenit scheint somit >> REIN RECHNERISCH << noch nicht erreicht, siehe auch folgendes Schaubild seit dem Jahr 2000: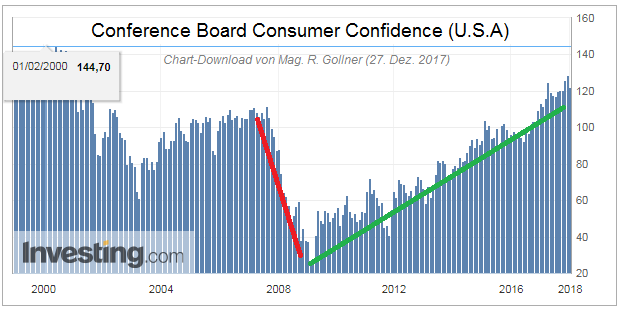 Big Picture: Wichtig ist wohl anzumerken, dass trotz dem leichten Rutsch im Konsumentenvertrauen der Arbeitsmarkt eine niedrige Arbeitslosenrate von 4,1% aufweist. Zusätzlich verzeichnet die US-amerikanische Wirtschaft ein Wirtschaftswachstum von 3% und dies in den letzten beiden Quartalen. Sollte dies nun auch im 3. Quartal hintereinander passieren, wäre dies das erste Mal seit dem Jahr 2005. Auch der Einzelhandel hat soeben erst seine beste "Holiday-Season" in der vergangenen Dekade verzeichnet!
O-Ton seitens des "Director of economic indicators at the board", Hrn. Lynn Franco: "Despite the decline in confidence, consumers' expectations remain at historically strong levels, suggesting economic growth will continue well into 2018."