Krypto-Universum liegt aktuell > der 1Billionen-Dollar Schwelle
Grund genug, um zu sehen, wer sich auf den ersten Plätzen bzgl. Marktkapitalisierung so tummelt. Reminder: It is analogous to the free-float capitalization in the stock market. Market Cap = Current Price x Circulating Supply.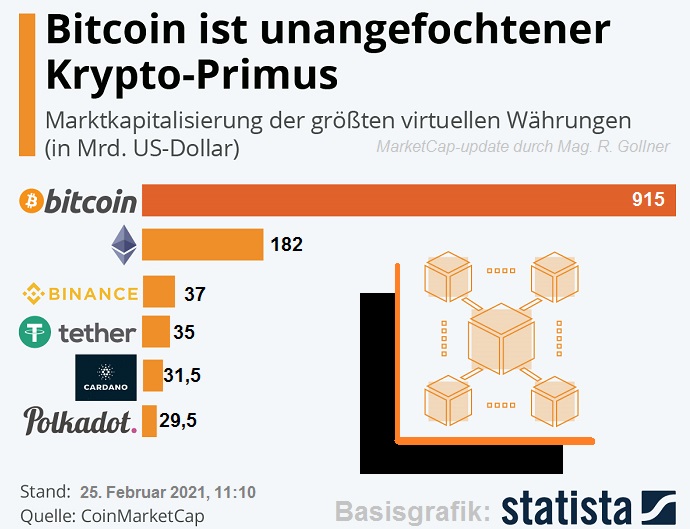 Besonders spannend finde ich persönlich, dass meine Binance-Coins so einen rasanten Aufschwung nun im Januar und Februar 2021 erfahren haben. Dies erfolgte auch im Zuge der DeFi Anwendungen rund um "Pancakeswap.finance", Venus & Co.
DeFi steht für Decentralized Finance; Einige Statistiken und Infos dazu gibt es auf https://defipulse.com
LG Ralph

Disclaimer/Disclosure: Ralph Gollner hereby discloses that he directly owns also other digital assets/currencies like Binance coin (BNB), Bitcoin (BTC), Ethereum (ETH) and other as per 25th Feb. 2021.
Disclaimer/Hinweis nach §34 WPHG zur Begründung möglicher Interessenkonflikte:
Binance coin (BNB), Bitcoin (BTC), Ethereum (ETH), und Andere befinden sich aktuell im "Echt-Depot" von Mag. Ralph Gollner - per 25. Februar 2021