DeFi (Dezentralized Finance :-)
Love it or Hate it
( I AM LOVING IT )
Money and finance have been around in one form or the other since the dawn of human civilization. Crypto is just the latest digital avatar. In upcoming years, we might see every financial service that we use...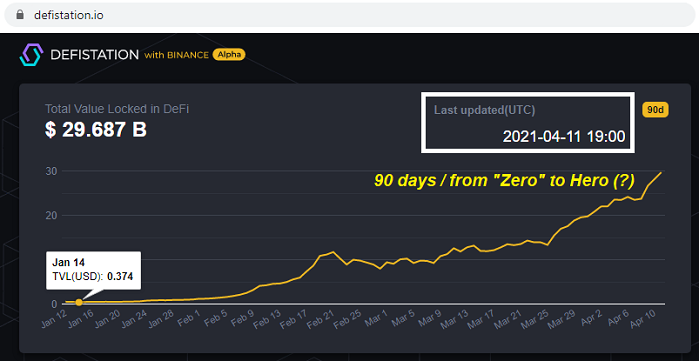 Chart: Total Value Locked (TVL) in Projects running on the Binance Smart Chain (BSC)

...in today's fiat system being rebuilt for the crypto ecosystem. We've already seen asset issuance and exchange, borrowing, lending, custody, and derivatives built for crypto.
What's next?
The first generation of DeFi dapps rely heavily on collateral as a safeguard. That is, you need to already own crypto and provide it as collateral in order to borrow more crypto. More traditional unsecured borrowing and lending will need to rely on an identity system, so that borrowers can build up credit and increase their borrowing power. Unlike today's identity and credit systems however, a decentralized identity will have to be both universal and privacy-preserving.
We're also seeing innovation in the insurance space. Many of today's DeFi loans are overcollateralized (meaning that loans seem inherently safe because of the generous cushion of assets held in reserve).
BLACK SWAN
But the black swan for DeFi is smart contract vulnerabilities. If a hacker finds and exploits a bug in the open source code for a dapp, millions of dollars could be drained in an instant. Teams like Nexus Mutual are building decentralized insurance that would make users whole in the event of smart contract hacks.
USER EXPERIENCE - NOW (!)
Another trend we're seeing is better user experience. The first generation of dapps was built by blockchain enthusiasts for blockchain enthusiasts. These dapps did a great job of demonstrating exciting new DeFi possibilities, but the usability left something to be desired. The latest iterations of DeFi apps are prioritizing design and ease of use in order to take open finance to a wider audience.
In the future, we expect that crypto wallets will be the portal to all your digital asset activity, just like an internet browser today is your portal to the world's news and information. Imagine a dashboard that shows you not just what assets you own, but how much you have locked up in different open finance protocols-loans, pools, and insurance contracts.
Across the DeFi ecosystem, we're also seeing a move towards decentralizing governance and decision-making. Despite the word "decentralized" in DeFi, many projects today have master keys for the developers to shut down or disable dapps. This was done to allow for easy upgrades and provide an emergency shutoff valve in case of buggy code. However, as the code becomes more battle-tested, we expect developers will give up these backdoor switches. The DeFi community is experimenting with ways to allow stakeholders to vote on decisions, including through the use of blockchain-based Decentralized Autonomous Organizations (DAOs).
Chart: Total Value Locked (TVL) in Projects running on "Crypto"
Something magical is happening in the open financial system - crypto is bringing money online, and we're seeing a quantum leap in what's possible when it comes to the functionality of money. It's a rare opportunity to see an entirely new industry blossom from scratch. The DeFi space will at first play catch up with today's financial services industry.
But over time, it's hard to even fathom what innovations will come about when the power to build financial services is democratized to anyone who can write code.
Stay tuned :-)
Original text here / link:
"A Beginner's Guide to Decentralized Finance (DeFi)"
https://blog.coinbase.com/a-beginners-guide-to-defi