DOW - biggest contributors 2017
(year-to-date)
Over the previous two weeks the Dow Industrials has been diverging from most other Indices and particularly the Dow Transports. An important part of the divergence has been the relative narrowness of the rally in the Dow.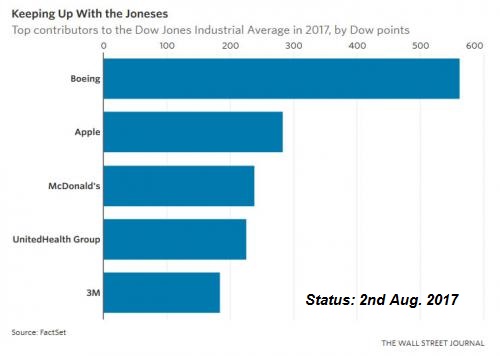 In the WSJ, Justin Lahart took note of the narrowness: "Americans cheering the U.S. stock market's latest milestone should pause to thank the rest of the world for making it possible. The Dow Jones Industrial Average breached 22,000 Wednesday (2nd Aug. 2017) after rising more than 2,000 points so far this year." Overseas sales were pretty relevant:
1) Boeing counted for 563 points of the 2017-gain of the DOW. About 60% of its sales come from overseas.

No. 2, contributing 283 points, is Apple, which gets two-thirds of its sales abroad.

No. 3 is McDonald's, contributing 239 points; foreign sales count for about two-thirds of its total.

Indeed, generally speaking - while there are notable exceptions - the greater the share of a company's sales come from overseas, the better its stock has tended to perform this year. Data from FactSet and S&P Dow Jones Indices show that companies in the top half of the S&P 500 by overseas sales exposure have had a median return of about 16% so far in 2017.
Disclaimer: Ralph Gollner hereby discloses that he directly owns some of the securities mentioned above (as per 3rd August 2017): AAPL, MCD, UNH and MMM (I am not owning Boeing-stocks, but I am participating from the global Aerospace-industry-tailwind by holding two industry-related stocks from Germany and Austria).