Valuation CAPE & Price-Book as per 31st Dec. 2015 (Selected global markets)

direct link: http://www.starcapital.de
In a most recent article (Bloomberg, as per today: 21st January 2016) it was mentioned that Hong Kong stocks fell below the value of their net assets for the first time since 1998 as concerns over capital outflows and China's economic slowdown sent the Hang Seng Index deeper into a bear market.
The benchmark gauge has a price-to-book ratio below one, a level unseen since the Asian financial crisis roiled regional markets and popped a domestic property bubble almost 18 years ago: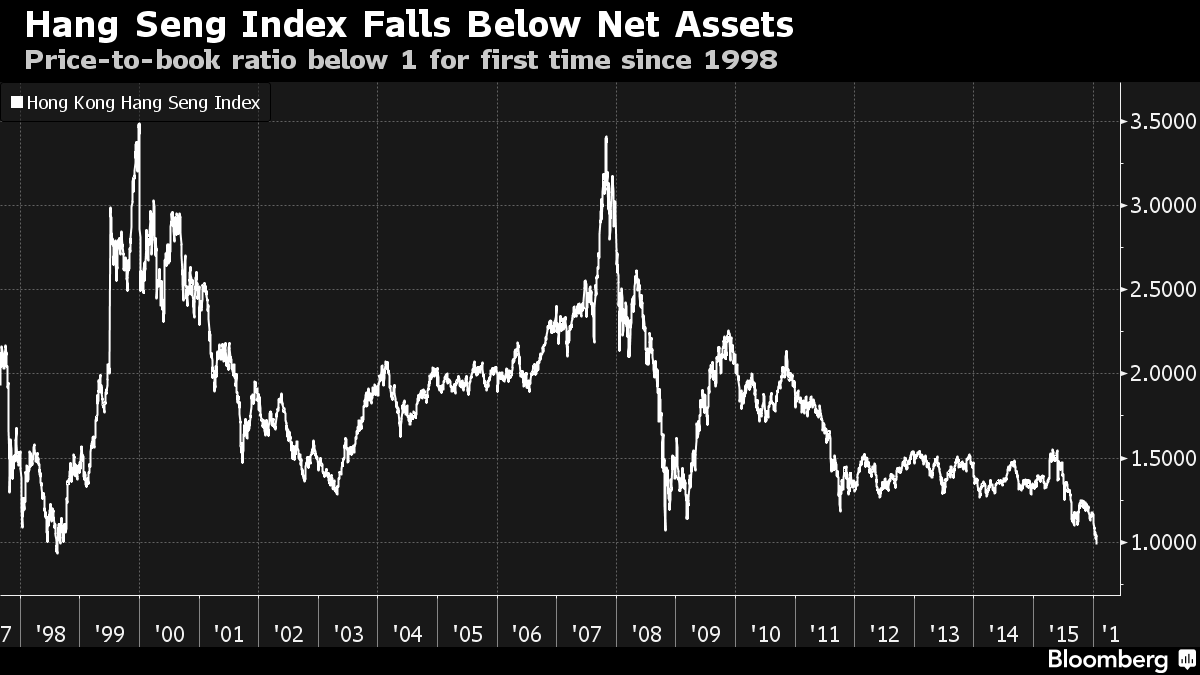 The Hang Seng index's drop below book value puts it in the same league as some of the most beaten-down markets in the world. They include Brazil, where the worst recession in decades has sent the benchmark index to 0.9 times net assets, and Egypt, which has a multiple of 0.8.
The Standard & Poor's 500 Index trades at 2.5, while China's Shanghai Composite Index is valued at 1.7 times net assets.
More than half of the Hang Seng gauge's 50 members have a price-to-book ratio below one, with New World Development Co. and Wharf Holdings Co. priced at less than 0.4 times net assets, data compiled by Bloomberg show as per 20th January 2016. While Hong Kong does have companies with high valuations, such as Tencent Holdings Ltd. and Hong Kong Exchanges & Clearing Ltd., their impact on the index is overshadowed by low-priced banks, energy firms and industrial companies with large asset bases.
In the first two weeks of January 2016 there were few places for investors to hide in Hong Kong's market. The proportion of Hang Seng Index members hitting new 52-week lows rose to 64 percent on Wednesday (20th January 2016) the highest since October 2008!
full bloomberg-article: http://www.bloomberg.com