S&P 500 Forward PE
(Status: 8th Feb. 2018)
Info upfront: The IT-Sector now "already" accounts for more than 25% of the S&P 500 Stock Index. But Then might come another question: Why do IT-stocks often perform nicely and -even also- for the majority...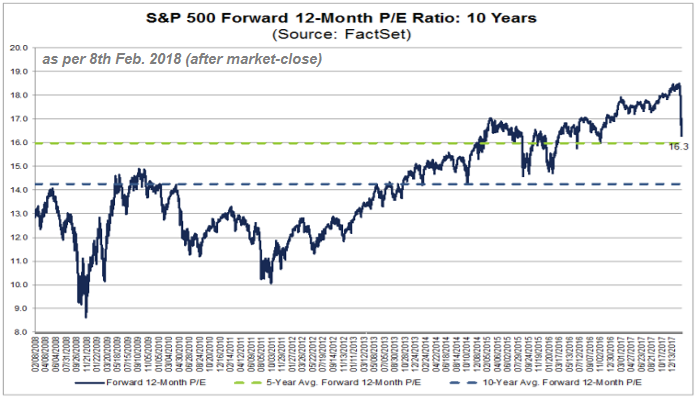 ...of StockMarket-observers reasonably well in line with their earnings and sales performance? well, have a look at the most recent numbers:
Information Technology: Internet Software Leads Growth
The Information Technology sector is reporting the third highest (year-over-year) revenue growth of all eleven sectors in the S&P 500 Stock Market Index at +12.8%. At the industry level, all seven industries in this sector are reporting revenue growth. Five of these seven industries are reporting double-digit revenue growth: Internet Software & Services (+25%), Semiconductor & Semiconductor Equipment (+18%), IT Services (+16%), Electronic Equipment, Instruments, and Components (+12%), and Software (+10%)!
Status Quo about the EPS-number in the S&P 500-Index ( 8th / 9th Feb. 2018)
The forward 12-month P/E ratio is 16.3.
This calculation was based on the index-closing price of 2.581 (as per 8th Feb. 2017, After-Market-Close).
Just to get an insight "BEHIND THE SCENES"
There are EPS Estimates for the S&P 500 year 2019expected ranging up to a whooping 173.48 points!
This should be compared against another EPSestimate of 157.01, which is the average level the analysts published most recently.
In this connection the interested reader should be reminded of the fact, that between the years 2014 and 2016 the EPS-figures in the S&P 500 were just fluctuating between 118.5 and 119.2 Index-points for the S&P 500 !
Quick calculation on EPS-growth over the years:
EPS 157 / EPS 119 (Index-EPS year 2016) would lead to an EPS-growth-number of +31% in the overall index
EPS 173 / EPS 119 (Index-EPS year 2016) would lead to an EPS-growth-number of +45% in the overall index !
But just for verification:
Currently European sources often calculate the actual EPS for the S&P 500 at a (lower) level of ca. 155 points !
link
"remember one of my elder postings here": www.private-investment.at/posts/view/736