5 US-Stocks Portfolio (High Risk, Annual Rebalancing)
5 US-Stocks Portfolio
(High Risk, Annual Rebalancing)
Warren Buffet says, sometimes concentration can help you in achieving great Return-figures. But only, if you really know what you are doing. Well, here I made a backtest of 5 US-Stocks, which are from the Food & Drinks...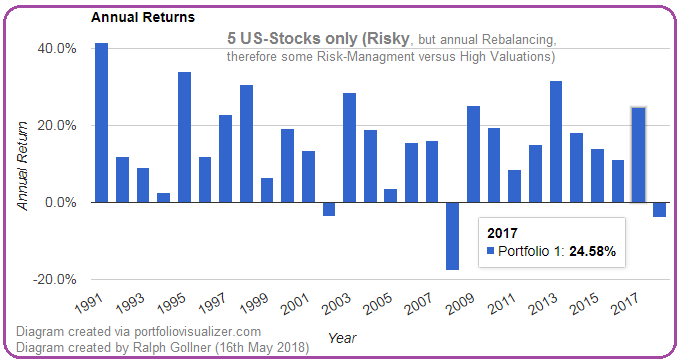 ...Sectors, but also from the IT and Industrial sector. It can also be said, that two stocks are currently components of the Dow Jones Industrial Average-Index.
A CAGR of 15% since the year 1991 looks like a nice return. From Jan. 1991 until April 2018 this compound annual return figure led to a final outcome of + 4,580%. There were three negative years since 1991, the worst being (of course) the financial-crisis year 2008, where the portfolio produced a loss of minus 17.68%.
Conclusion: If you cannot handle 3 negative years in a timespan of 25 years...well...