Gradueller Einstieg in Zeiten wie Covid-19
(Aktien-Investionsquote)
Sofern Jemand den Spruch "Kaufen, wenn die Kanonen donnern" ernst nimmt und nun tatsächlich in den Aktienmarkt einsteigen will, könnte man sich einen graduellen Einstieg vorstellen. Und zwar nicht ALL-IN (Einmalerlag),...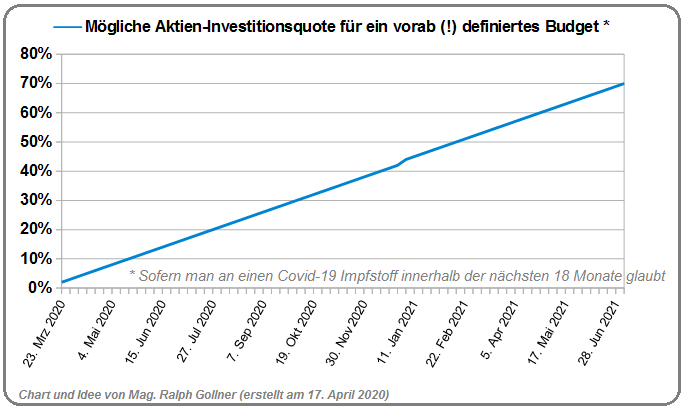 ...sondern eventuell nervenschonend-er über mehrere Tranchen.
Der psychologische Vorteil wäre dann in den nächsten Monaten und Quartalen, dass man sich gar über fallende Kurse freuen könnte, weil man ja dann billiger zugreifen kann. Dahinter steht die (ewige) Überlegung, dass LANGFRISTIG (!) die Aktienindizes auf ein neues Allzeithoch steigen können. Dies gilt grundsätzlich für den globalen Aktienmarkt, nicht unbedingt für lokale Aktienmärkte. So warten wir hier in Österreich seit gefühlten Ewigkeiten auf ein neues Allzeithoch (sehr zyklisch unser kleiner Aktienmarkt hier zHaus).
Bezüglich dem graduellen Einstieg habe ich einen Zeitraum von ca. 16 bis 18 Monaten angenommen, also bis ca. in den Juni/Juli, Sommer 2021 hinein. Pro Woche würde dann -folgend neuer Investments- laut dem von mir eingezeichneten Strahl (siehe Grafik oben) das Anlagekapital im Aktiendepot um ca. 1 bis 2% ansteigen. Dies wäre dann aber nur als Richtschnur anzunehmen um eine ungefähre Orientierung zu haben. Warum gerade dieser Zeitraum von ca. 1 1/2-Jahren? Nun siehe da ("Impfstoff/Vaccine"):


Oft verliert man sich nämlich im Dschungel von Ideen und Market-News, sowie Trump-Getwittere. Noch dazu stehen ja diesen Herbst die US-Präsidentschaftswahlen an. Es ist also für genügend (nichts-sagenden) NOISE gesorgt. Dennoch soll man sich nicht von seinem einmal getroffenen Vorsatz abbringen lassen - sofern ein intelligentes Budget für die langfristige Aktienanlage definiert wurde.
Ein Reminder:
Gesät wird also über die kommenden 18 Monate, geerntet evtl. in 8 Jahren, in 15 Jahren, oder gar später.
It's the "Zinseszins", stupid ;-)
Und warum das Aktienbudget nicht (gleich) zu 100% befüllt wird?
>> Well, always "bet" on a BLACK SWAN <<

Auszug aus Artikel/link unten "Warten auf den Impfstoff":
[...] The coronavirus that for weeks had been crippling hospitals in her hometown of Seattle changed Jennifer Haller's life on 16th March - but not because she caught it. Haller, an operations manager at a tech company in the city, became the first person outside of China to receive an experimental vaccine against the pandemic virus, and in the days since, she has been flooded by an outpouring of gratitude. "There's been overwhelming positivity, love, and prayers coming at me from strangers around the world," Haller says. "We all just feel so helpless, right? This was one of the few things happening that people could latch on to and say, 'OK, we've got a vaccine coming.' Disregard that it's going to take at least 18 months, but it's just one bright light in some really devastating news across the world."
The vaccine Haller volunteered to test is made by Moderna, a well-financed biotech that has yet to bring a product to market...