"Ich baue mir (m)eine Privatpension"
(nur für mich alleine!)
Fiktive 60k USD anfangs
(wären aktuell ca. EUR 52.000,--)
Gerne hätte man dann wohl einen DICKEN PUFFER am Ende der 20jährigen Ansparphase >> Im besten Fall sollte dieser PUFFERBETRAG dann im Jahr 20 zwischen USD 250.000...
...und USD 500.000 liegen; Siehe Grafik oben: "Simulated Portfolio Balances" (gelbe & blaue Linie).

a) Ansparphase (bis zum 20. Jahr)
b) "Retirement-Phase" / Entnahmeplan (ab dem Jahr 21)

Prämisse Nummer 1 für mich: Mit einer 81%igen Wahrscheinlichkeit rechne ich in meinem Szenario in den nächsten 20 Jahren mit einer jährlichen Rendite (Schnitt/per anno) von mind. + 5% per anno! Dies folgt auch aus dem dynamischen ASSETKLASSEN-SPLIT, welcher sich vom Jahr 1 bis zum Jahr 20 von Jahr zu Jahr ändert, und zwar in Richtung: 25% Aktien, 75% Cash:


Im nächsten Schaubild sieht man die -bereits inflationsbereinigte Kalkulation von- angepeilten Entnahmen von 4% pro Jahr des gesamten Ansparbetrags AB dem Jahr 21, somit ca. USD 6,14k im Jahr 21 ( = ca. USD 500,-- pro Monat im Jahr 21 - sofern FX konstant wäre.../somit im 1. Jahr der "Entnahmephase"):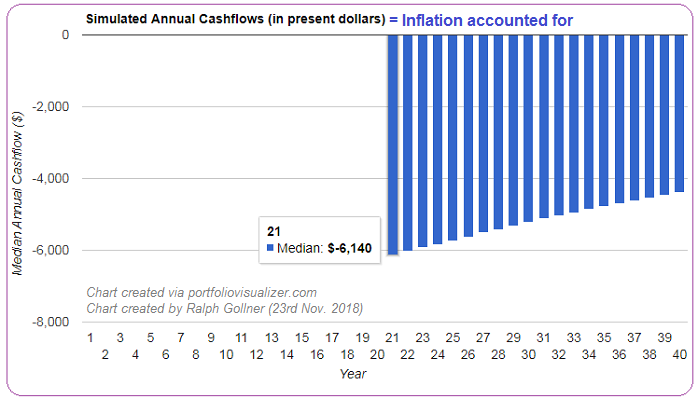 Zu guter Letzt sollte gar im Jahr 40 noch ein beruhigendes Polster von "nominal" mind. USD 125,000 USD für späte Notfälle reichen...wenn schon sonst "Nix" mehr da wäre...(siehe erstes Schaubild oben - violetter Linienverlauf bis in das Jahr 40 hinein). Evtl. aber sogar > USD 550,000 dann noch da - wooohaha :-)


Data-Details (in english):
Monte Carlo simulation results for 10,000 portfolios with USD 60,000 initial portfolio balance using available historical returns data from Jan 1986 to Dec 2017. 20-year linear glide path was used to transition from starting portfolio to retirement portfolio.
The simulated inflation model used historical inflation with 2.58% mean and 1.12% standard deviation based on the Consumer Price Index (CPI-U) data from Jan 1986 to Dec 2017. The generated inflation samples were correlated with simulated asset returns based on historical correlations. The available historical data for the simulation inputs was constrained by Global ex-US Stock Market [Jan 1986 - Oct 2018].